Our Story
We wanted more time to see the world, so we made traveling our job! We quit our cozy corporate finance careers in fabulous Las Vegas, Nevada, USA to embark on the trip of a lifetime around the world. Over our nine-month journey, we'll be on a mission to discover for ourselves some of the greatest people, places, and things this amazing world has to offer. In addition to documenting these adventures, we also hope to discover what our passions in life are so we can transition into fully pursuing those endeavors.
What we hope to accomplish with this website, is to use our finance and travel experience to demonstrate that travel is a worthwhile investment! We will be sharing our budgets and our true expenses for the trip to give other travelers a better idea of costs they can expect to incur if visiting the same destinations while backpacking.
Ashly
Ashly had never traveled out of the United States prior to meeting Carlos, but after traveling to Mexico, England, France, Spain, and Thailand within their first two years together, she knew she didn't want to stop anytime soon. She's the organized planner of the pair and a bit of a control freak. She just wants to be able to see as much as possible wherever they are.
She's a creative person who loves to DIY home improvement projects at her home in Las Vegas. She's also a self-taught seamstress and clothing designer who has made many special occasion dresses for herself such as prom and bridesmaid dresses, and is currently working on a project to design clothes aimed at solving over packing issues for frequent and/or long-term travelers.
She is ambitious and business-minded, having received her bachelors degree from the University of Nevada, Las Vegas in Entrepreneurship and Finance. She's never satisfied and always wants to learn something new (hence, trying to learn how to run a website and YouTube channel while backpacking the world). Her dream is to work for herself someday and be location independent with multiple streams of passive income while helping others and making a difference in people's lives.
She is an aspiring minimalist and monochromatic-aholic (she wears a lot of black and white if you haven't already noticed). She cares about the environment, the earth's resources, and unnecessary waste, and hopes that her life's work can somehow improve the current state of the environment and lessen the amount of wasted commodities.
She is an animal lover and has two dogs she has left at home with her family and misses dearly. She hopes this Round the World trip will include a few opportunities to volunteer with animals and improve their quality of life and well-being.
And lastly, she is a super talkative person who has basically seen every funny video that exists on the internet, so if you ask her, chances are, she's seen it. But if you ask her if she's seen a movie, chances are, she hasn't, because she falls asleep at every movie.
Carlos
Carlos has been a frequent traveler his whole life. His mother and father both immigrated to the United States from Mexico and Spain. He is first generation American born and bilingual in English and Spanish (which really comes in handy while traveling). Prior to meeting Ashly, he had already had many stamps in his passport, including to Spain, Germany, Hungary, and Austria, among others. He's the chill, laid back one in the relationship who makes new friends easily and can navigate new locales and new currencies like a pro.
He loves any and all sports but his true loyalty is to soccer (specifically the FC Barcelona team). He is super competitive and athletic, and therefore willing to try his hand (or foot) at any sport you can think of. His TV and radio stations consist of all sports all the time, and he even once aspired to be a Sports Center news anchor.
He's a mathematician and finance guru who can whip up beautiful Excel reports at the drop of a dime. Even when he doesn't have a job (like currently), he tracks his own spending in Excel and plans to track the budget and spending of this Round the World trip so he can make helpful charts and graphs to illustrate the true costs of a trip of a lifetime such as the one they are taking. He received his two bachelors degrees in Finance and Economics from the University of Nevada, Reno. Which by the way, would make Carlos and Ashly's alma maters rivals.
He's curious and loves to learn about other cultures and ways of life all over the world. His inquisitive thirst for knowledge seems to never be satiated. He is empathetic towards others and has the ability to put himself in their shoes rather easily, making him great at understanding people and their motives and needs. He has a passion for volunteering and giving back to the community, especially the homeless population and children. His perfect job would involve enriching the lives of those less fortunate, as it brings him great joy and a sense of accomplishment to know he has helped his fellow mankind.
He's a definite foodie who is always up to try new things (even the really weird stuff). He is spontaneous and not afraid of a little adventure in his day or his diet.
Last but not least, he's a jokester and sarcastic smart ass. For example, he once convinced a classmate to refer to the Debate Club as the Master Debaters on his high school's morning news show. He didn't get away with that one.
Where We've Been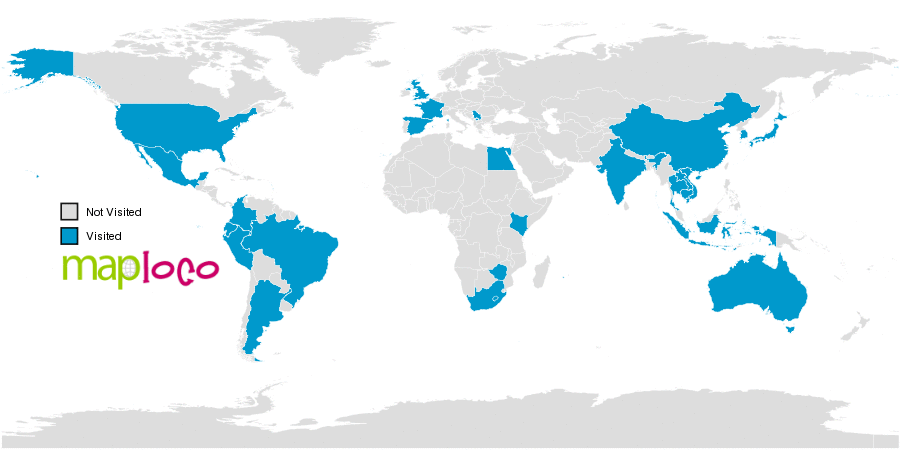 Create Your Own Visited Countries Map